Welcome to Bethlehem, New York
The Chamber of Commerce welcomes you to Bethlehem, New York, A choice residential community of 28,000 dotted with quality homes and light industry dynamic and progressive communities.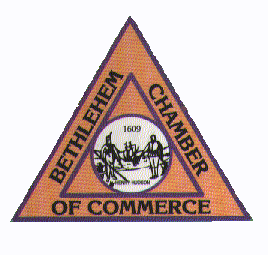 ---

Accommodations


Restaurants


Real Estate, Mortgage Brokers


Retail


Professional Services


Service Companies


Fine Arts


Health Care & Physicians


The town is blessed with an outstanding library and school system, numerous cultural groups, a supportive climate for business, and a location that offers convenient access to a wide range of outdoor and indoor recreation and cultural activities. Residential life is centered around a number of hamlets, with a neighborly spirit, and small town flavor with in a modern community governed by a Town Board and administered by a town supervisor.
---
Greetings from Bethlehem Chamber of Commerce Telephone: (518) 489-0512 ~ Fax (518) 475-0910
---
Other Chamber of Commerces on the USA-CHAMBER.COM Web Server
---
Internet Commerce Centers on Coconet
---
Information about USA-CHAMBER.COM
How you can get your Chamber of Commerce on USA-CHAMBER Web Site
Creating your own Web Page to add to your Chamber Web Page
Joining your local Chamber of Commerce
---
Reference and Index Sites from around the Web
---
Home page provided by

Copyright 1994-2000 CocoNet Corporation. All Rights Reserved.